Chris and her family create a Backyard Shrine that was blessed by Fr. Joseph on July 6, 2014 that is entitled:  Faith, Family, Friends.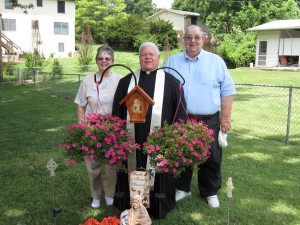 Here is their dedication prayer:
"Just as Christian wayside shrines throughout the world give comfort and reassurance to weary travelers, we have chosen to carry that tradition in a small way into our home.  We've chosen to place an MTA wayside shrine near the entrance way to our home to reassure us, our family, friends and visitors that our home is also a place of faith, comfort and welcome.
Whether we are returning from a long journey or quietly meditating on our patio and enjoying the silence and beauty of the wonderful home that God has blessed us, we thank Him for reminding us of His continual presence and care through sacred images placed lovingly along our way."